Eleven years ago to yesterday was volatile day in Indiana when severe storms impacted portions of the state. These came within two rounds: One being early in the day with another rolling through during the evening hours.

First Round of Severe Storms
The first round of storms that moved through earlier in the day brought heavy rainfall and pockets of hail to the area. Rainfall amounts as much as over 2 inches fell in some places especially around Indianapolis where nearly 2 1/2 inches of rain was reported to have fallen in the area.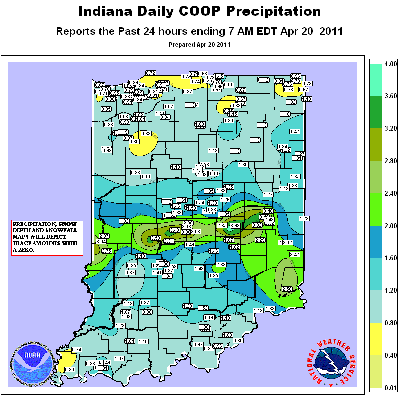 Second Round of Severe Storms
The second round of storms would bring much more impacts to the area along a strong cold front. During the course of the day, a line of storms would begin to form out in the eastern Great Plains and would began racing off to the rest with day progressing. As the line began racing to the east in Illinois, bowing segments began to form with areas of storms along the lining moving faster than other storms along the line. This would lead to a bowing segment pattern along the line in which storms are racing out ahead of the main line of storms. This line of storms would wreck havoc across much of the Midwest bringing damaging winds, large hail, and tornadoes to much of the area.
By late evening on April 19th, the storms would make their way into western Indiana as one of the bowing segments raced into the state. As the storms crossed into Indiana, they would spawn a few tornadoes with one tornado forming south of Lafayette, another in Vermillion county, and one near Thorntown, Indiana. Two of these would be rated EF-2 with the third one being rated an EF-1. Tornadoes wasn't the only thing this system would bring but it would bring the threat for damaging winds especially with the quick moving bow echo segments along the squall line. This would to a lot of reports of vehicles being blown of the interstate like on the northwest side of Indianapolis, tree limbs being brought down, and even some damaged property such as in Fort Wayne when a shopping center and a machinery received damage from straight line winds that blew through the area. Afterwards, there were reports of power lines being down meaning that people didn't have power.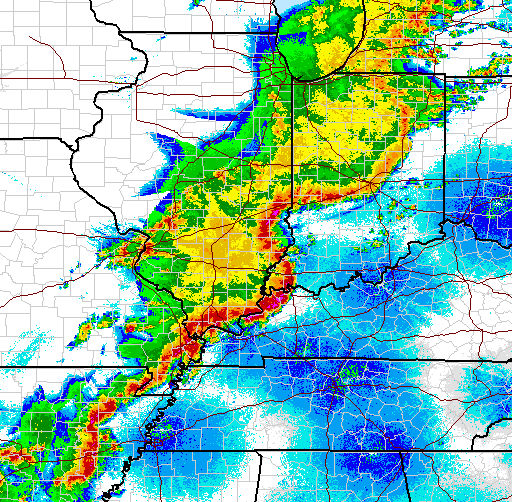 Temperature Whiplash
Between the departure of the first round of storms and the second round of storms, temperatures warmed up quickly due to the warm front that moved through early on in the day. Temperatures were in the 40s during the first round of storms but after the line moved through, temperatures skyrocketed to the upper 60s in locations north Indianapolis while locations south of Indianapolis were nearing 80 degrees! Unfortunately, this wouldn't last as the squall line that would move through later in the evening would take away the warm and by the next morning, temperatures were back in the low 40s by 7am on April 20th, 2011!

Sources
https://www.weather.gov/media/lsx/Events/04_19_2011.pdf
https://www.spc.noaa.gov/misc/AbtDerechos/casepages/apr202011page.htm
https://www.weather.gov/ind/april192011severe#:~:text=Severe%20thunderstorms%20developed%20and%20moved,and%20a%20couple%20of%20tornadoes