Whenever the local meteorologists says that the area is under an "enhanced" risk for severe thunderstorms, what do they mean by that? What are the parameters for each severe risk? From a general thunderstorm risk, to a potential deadly tornado outbreak, each risk level will be discussed.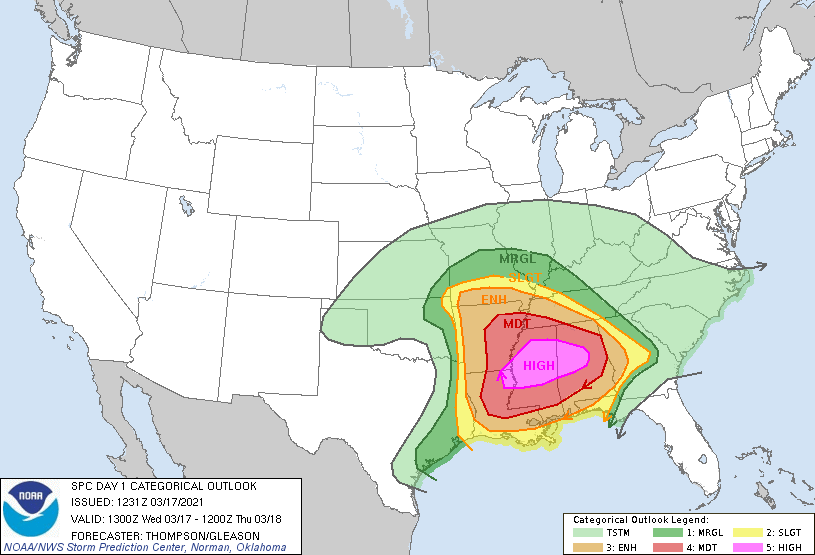 What are convective outlooks? Convective outlooks are issued daily and they forecast the potential for severe weather for a certain day.
Level 0–Thunderstorms
With this risk, severe thunderstorms are not expected. that does not mean they cannot happen as weather conditions can change on a dime. The threat for severe hail is less than or equal to 5%. The percentage is used for the possibility for something to happen within 25 miles of that polygon. The threat for tornado are less than 2% and damaging are less than 5%. This color is often a light green color (see image below).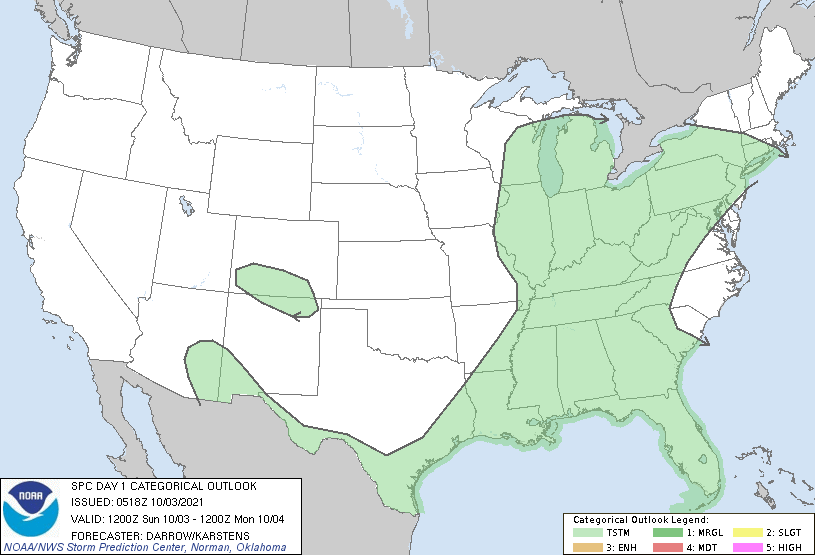 Level 1 – Marginal
The first level for severe weather is the marginal risk, often seen as a dark green color. For a marginal risk, the probabilities for wind and hail are at 5% for any point in a 25 mile radius in the polygon. The tornado risk is at 2% for the same radius. While the severe isn't high, severe thunderstorms could occur, so be prepared for when they do occur. In the image below, you can see both a marginal risk and the general thunderstorms risk. This is because a marginal risk is a higher risk within a general thunderstorm risk. This will become the theme for every category, as they are located within the lower risk, marking a spot of higher threat for severe weather..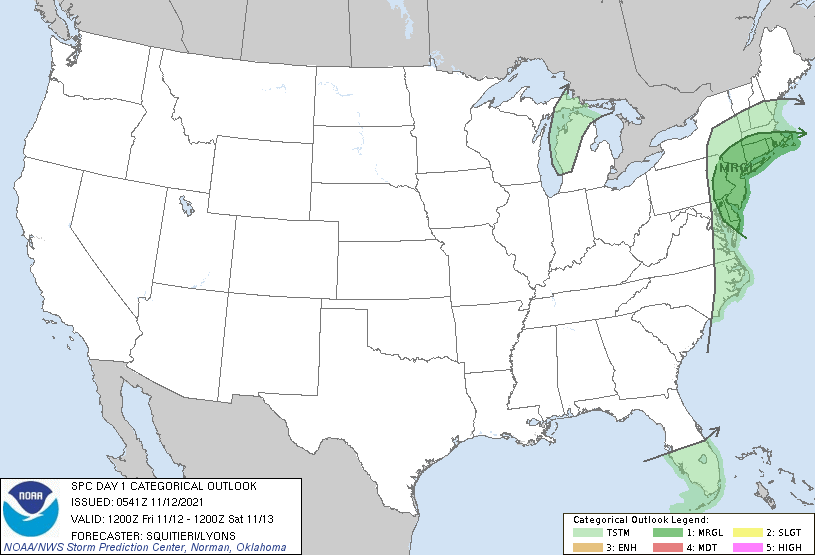 Level 2 – Slight
A slight risk is the second level for the convective outlooks issued by the Storm Prediction Center. Slight risks highlight areas of deeper concern within a marginal area. The parameters for a slight risk are as follows: 15% damaging wind and/or 15% damaging hail and/or 5% tornado chance within 25 miles of any given point in the slight risk area. Slight risks are often the dividers between severe weather outbreaks and a few pop up severe thunderstorms.
Level 3 – Enhanced
The Enhanced risk was added to the convective outlooks not that long ago. Enhanced risk often show a potential for a dangerous situation within a slight risk area. The parameters are as follows, along with some new ones: Damaging winds: 30 with significant severe potential or 45%, hail 30% with significant severe or 45%. Tornadoes can have a 10-15% chance in an enhanced risk, and a 10% for a potentially strong tornado can often be seen with an enhanced outlook (see second image below. These storms can be nasty if everything is confirmed through the convective outlooks. Make sure to have plan for these events.
Level 4 – Moderate
These next two levels can become particularly dangerous situations. These are when outbreaks appear likely. Moderate risks are issued when conditions are ripe, and I mean ripe. Damaging hail, severe winds, and strong tornadoes are all likely with moderate risks. The parameters are as follows: 30% tornado risk, or 15% with a significant severe risk of tornado (hatched area in the image above). Hail is 45-60% both with significant severe hail potential. Lastly, damaging winds are 60% or 45% with significant severe winds possible. If you are under a moderate risk for severe thunderstorms, consider cancelling any activities during the severe event, always stay informed, and be prepared for rapidly changing weather conditions. When storms form in such environments, they will often thrive in them.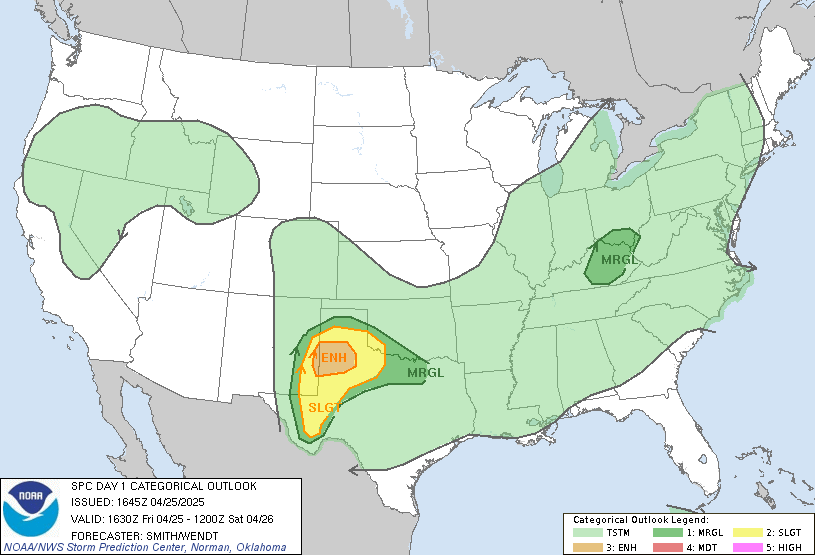 Today parts of Iowa are actually under a Moderate risk (see the image above), with the potential for strong tornadoes, very large hail, and damaging winds.
Level 5 – High
Last, but certainly not least, is the high risk. These are rare, and for good reason. If a high risk is issued, the potential for severe weather is nearly through the roof. Severe weather outbreaks almost always happen with them, derechos, deadly tornadoes, large hail as well. Here are the parameters for a high risk: Damaging winds: 60% with a significant severe potential. Tornadoes: 30% significant severe potential, 45%, 45% with significant severe potential, 60%, and 60% with severe significant severe potential. Hail was actually maxed out under a moderate risk, and no new parameter is introduced with the high risk. Most high risks have an emphasis on the potential for violent, long-track, and potentially deadly tornadoes. This is why anyone under this risk needs to be weather aware, be informed immediately when a special tornado watch is issued, or when storms move into the area. Activities should be postponed as well to avoid travel. Schools often don't have class or leave early when severe weather of this magnitude is possible.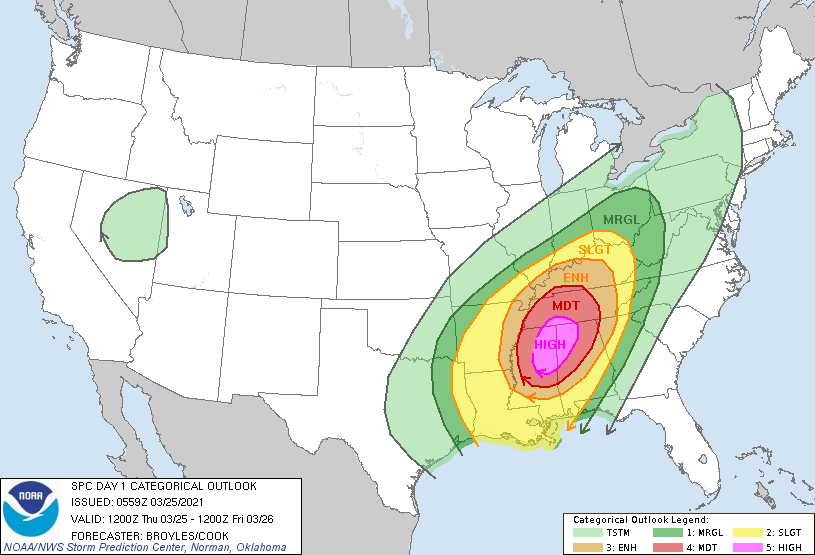 -CWS- Lance Huffman
Sources
https://www.spc.noaa.gov/exper/archive/event.php?date=20210317
https://www.spc.noaa.gov/misc/about.html
https://www.spc.noaa.gov/exper/archive/event.php?date=20211112
https://www.spc.noaa.gov/exper/archive/event.php?date=20220307
https://www.spc.noaa.gov/exper/archive/event.php?date=20220405
https://www.spc.noaa.gov/products/outlook/day1otlk.html
https://www.spc.noaa.gov/exper/archive/event.php?date=20210325