Why are nighttime tornadoes often deadly? Why do they even happen at night? What can you do to be prepared for overnight severe weather?
Eastern Indiana is no stranger to overnight storm systems. Luckily most storm systems initiate in Illinois, and become a line of storms moving into eastern Indiana overnight. Sometimes, that is not the case, as they may remain isolated. That can also be the case anywhere east of the Rockies in the United States. Nighttime thunderstorms that produce tornadoes aren't often confirmed until they produce damage because you can't see them until a lightning strike occurs, or a power flash from the tornado hitting a power line.
There is no better example than the deadly tornado outbreak that occurred on December 10, 2021.
On December 10th, a system spawned tornadoes overnight, claiming over 80 lives in Kentucky from the "Quad-State Supercell."
Earlier in the day, a dryline and cold front were situated in central Oklahoma, and pushed their way east into the afternoon and evening hours. A warm front was also draped north Missouri and into southern Indiana as the entire system moved northeast. Wind shear (change in wind direction in the atmosphere) was absurdly high, which can create a chance for nasty tornadoes. This is why the SPC prompted a moderate risk for southeastern Missouri, southern Illinois, western Kentucky, northwestern Tennessee, and northeast Arkansas.
In the image below, the red circle for 25% entails that there was a 25% chance of a tornado within 25 miles of any point of the red, which is significant. The hatched area, the dashed black lines, entail the 10% chance of a significant tornado, that being EF-2 or above within 25 miles of any given point in that area.
As the night approached, many people were caught unaware by a supercell thunderstorm that produced major damage across four states, although it is still undetermined if it was from one tornado. This one supercell tracked from Little Rock, Arkansas, to Louisville, Kentucky, dropping multiple tornadoes, and causing significant damage. This cell would be name the "Quad-State Supercell."
One of these communities hammered by the "Quad-State Supercell" was Mayfield, Kentucky. Mayfield was issued multiple tornado emergencies for a large and destructive tornado. This tornado didn't wait for people to act when the sirens went off. The tornado destroyed most of the town. Homes, flattened, unrecognizable. As folks are in the rebuilding process, no one will forget the 77 lives that Kentucky lost from this storm. This tornado would be rated as a high end EF-4. Some could argue for another survey to bump the rating up to an EF-5.
This tornado occurred overnight, and likely had it been during the day, less lives would have been taken. It is generally accepted within weather that if people see it, they act upon it. If they would've seen a wedge tornado, they would've been ready to act. However, many of them sleeping were not prepared. Always, always, always, be prepared for severe weather overnight. When warnings are issues, they are only issued for minutes in advance of a storm.
Another outbreak of evening and nighttime tornadoes occurred yesterday across central Kansas, and damage has yet to be rated. This system is currently prompting a moderate risk over parts of Louisiana, central and southern Mississippi, and western Alabama.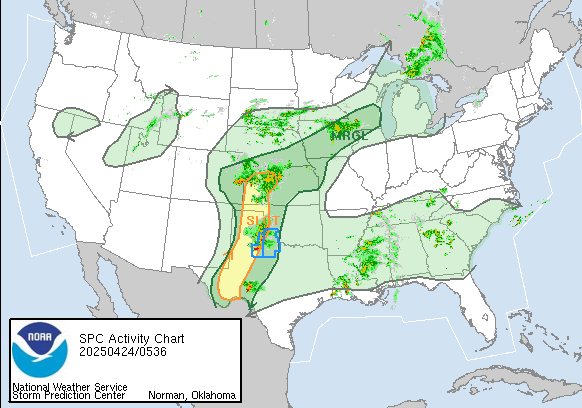 Nighttime severe weather is dangerous for many reasons. The biggest being that people are unaware because they didn't turn their weather radio on, or their phone is off. Anytime severe weather is expected turn on the weather radio overnight. It could be a lifesaver in case of a tornado. Another reason as to why these setups are dangerous is because of it being overnight. You have to depend on lightning to see the storm, or power flashes from tornadoes breaking power lines. The featured image from the Quad-State Supercell is in low quality and at night because it was dependent on lightning to see it.
That is because lightning was the light in this picture, which was able to illuminate the massive tornado for less than a second. That is unsafe. Take cover immediately if you are within any warning. Tornadoes, as cool as they may be, will produce damage, so tornado warnings must be respected to assure your safety, along with others as well.
Sources:
f8058c0c027f34db3ddb26a5e09.jpg?s=1400
https://www.spc.noaa.gov/exper/archive/event.php?date=20211210
https://www.weather.gov/crh/dec112021
Featured Image: https://www.usatoday.com/videos/news/weather/2021/12/13/nighttime-tornado-devastates-kentucky-town/6477591001/