March is considered a transition month from winter to spring. Because of this, snow events and severe weather events are common. Here are some of the severe storm events that were seen across central Indiana since 2017.
March 20, 2017
The severe storms on March 20, 2017 brought heavy rain and hail damage through much of central Indiana. this system nearly dropped an inch of rain in Muncie, while it dropped 1 inch hail along a line from Warren county through Indianapolis to Rush county, with a couple reports of hail in Morgan and Monroe counties as well. This event occurred due to a sufficient amount of energy in the atmosphere, along with moist and unstable air moving above colder air at the surface.
March 30, 2017
On March 30, a low pressure was situated to the Northwest of central Indiana. This system was also accompanied with a warm front, which brought moist and unstable air to the area. This set up thunderstorms across the area. Most of central Indiana received reports of hail, a few damaging wind reports, and even a funnel cloud report north of Muncie, Indiana. Hail was reported up to 1.75 inches
March 14, 2019
After a quiet March in 2018, March of 2019 brought a system that produced severe weather across the area. This system brought gusty winds even outside of thunderstorms. This system produced multiple thunderstorms. One of which produced an EF-1 tornado that damaged trees, irrigation systems, and caused large amounts of damage to a pole barn. There was enough wind shear (change in direction with change in height) to spawn that tornado. the tornado was on the ground for about 1.25 miles according to the surveyors who break down the paths of tornadoes.
March 28, 2020
March of 2020, besides the pandemic, contained a severe event in Central Indiana. An upper level low pressure and a system move through the area. There was not much energy in the atmosphere, but wind shear can compensate for that if there is enough of it. There certainly was enough to get severe weather. Once the storms formed, they dropped hail, formed into a line, and pushed east. this system dropped nearly 3 inches of rain in some areas near Muncie.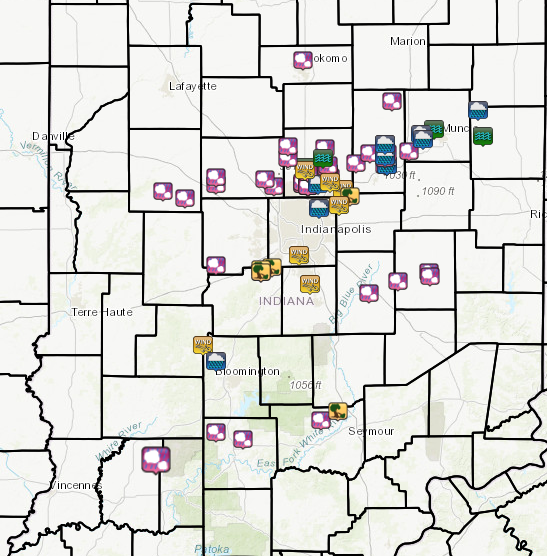 Severe storms can occur at anytime during the warmer months. That is why it is important to stay prepared for severe weather. Make sure you have a plan to take cover, even if you aren't at your home. It can save you from getting injured.
Sources
https://www.weather.gov/ind/events
https://www.weather.gov/ind/mar202017severe
https://www.weather.gov/ind/march142019severe