Some of you may have lived near one of the Great Lakes your entire life and have been exposed to excess snow on a daily basis during winter. Maybe it was a nice and mild winter day before a cold front moves through. Then you wake up the next day and you find out that its snowing pretty hard in your area despite not being any warnings for an upcoming snowstorm. This phenomenon is known lake-effect snow.

Lake-effect snow usually occurs from November to April with the majority of the events happening during the winter months of the year. Areas near the Great Lakes such as Chicago, IL; Buffalo, NY; Kalamazoo, MI; and Cleveland, OH.

How does lake effect snow form?
Usually, this process begins when for example a strong cold front moves through and its cold enough to bring in colder winds aloft. If you lake happens to be warm at the time the front moves through. This can lead to interactions which occur with a warm and moist lake with the cold air. Once there is a clash between the two, this leads to clouds building aloft. Once the clouds grow enough in size with the updraft of warmer air, this can lead to snow beginning to fall slow and steady at first and then increasing in intensity as the clouds travel down the lake. If the lake happens to be long, it can lead to heavier snow squalls developing. This can be attributed to fetch in which the longer the time the snow clouds spends developing along a uniform lake, the heavier the bands of snow. Once the clouds do make it off the lake, this brings heavy snow to areas along the Great Lakes and even to those far away from the lakes. Sometimes this can be even enough to produce thunder and lightning with the heavier bands of snow which is known as…..thundersnow!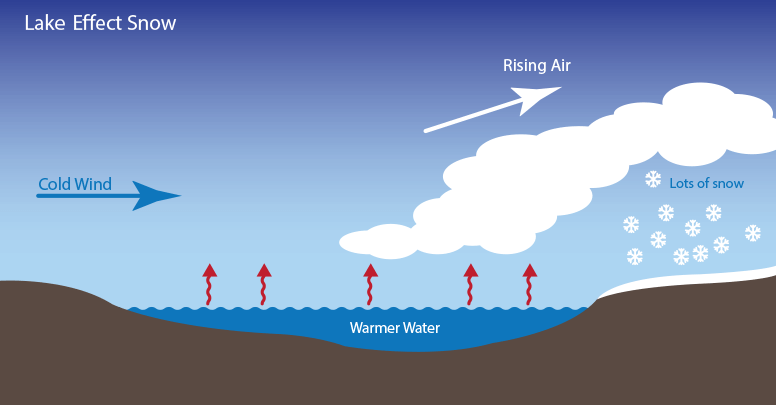 Significant Lake Effect Snow Events
–November 17-21, 2014: Heavy lake effect snow impacted parts of the Great Lakes with the heaviest falling around Buffalo, NY. Up to 7 feet of snow was reported in some areas. Additionally, during this time frame thundersnow was also reported during this time as well.
–December 24-26, 2017: Lake-effect snow up to 5 feet of snow was reported in portions of Pennsylvania!
–November 11-12, 2019: Lake-effect snow fell in portions of Michigan and northern Indiana preceding the heavy snowstorm that impacted much of the Midwest on November 11th. Up to near 3 feet to snow was reported in many locations.
–February 3-12, 2007: Extreme heavy lake-effect snow fell across portions of the eastern Great Lakes dumping as much as almost 12 feet of snow in some areas near Lake Erie and Lake Ontario! This event was known as one of the most prolific and prolonged snow events to occur!

Just Because it's Lake-Effect Snow Doesn't Mean it is Not Dangerous
Lake-effect snow events are pretty fun to watch but just like snowstorms can cause as much trouble as they could! It is important to plan ahead and be aware for the potential for these events especially between November-April!

Sources
https://www.weather.gov/safety/winter-lake-effect-snow#:~:text=Lake%20Effect%20snow%20occurs%20when,waters%20of%20the%20Great%20Lakes.&text=The%20air%20rises%2C%20clouds%20form,will%20receive%20lake%20effect%20snow
https://www.weather.gov/buf/lesEventArchive?season=2015-2016&event=H
https://cimss.ssec.wisc.edu/satellite-blog/archives/26473
https://www.abc57.com/news/major-early-season-snow-event-drops-well-over-a-foot-in-spots
https://spectrumlocalnews.com/nys/central-ny/weather/2022/01/29/looking-back-on-the–epic–lake-effect-snow-event-15-years-ago-this-month